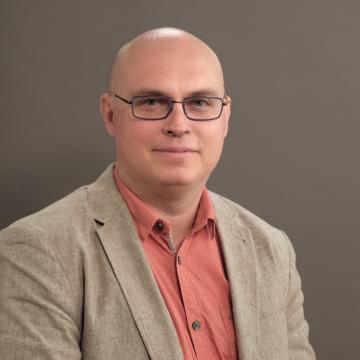 The anthropologists have only interpreted the world, in various ways; the point is to change it.
Department of Ethnology and Cultural Anthropology
Assoc. Prof. Dan Podjed
Dan Podjed is an associate professor and researcher in the field of anthropology.
Dan Podjed, PhD, is an anthropologist dedicated to the development of humane and environmentally friendly services, products and solutions. He is a Research Fellow at the Research Centre of Slovenian Academy of Sciences and Arts and Associate Professor at the University of Ljubljana's Faculty of Arts. He has led several applied, interdisciplinary and industry-oriented projects, and participated in the development of various ethnographically based solutions in EU projects. Dan Podjed acted as the convenor of EASA Applied Anthropology Network from its inception in 2010 to 2018 and continues his commitment as one of the network's Executive Advisors. In 2013, he was the founder and from 2013 to 2018 organiser of the international symposium Why the World Needs Anthropologists.
In 2019, he published the highly acclaimed book Seen, in which he explained why we are increasingly observed and exposed with the help of smartphones and other devices. In 2020, his book Indoor Anthropology was published. In the book he presented to the general public how he got to know society and himself during the Covid-19 pandemic.
His research interests include applied anthropology, digital anthropology, business and organisational anthropology, human-technology interactions, sustainable lifestyle, altruism, and volunteering.
PODJED, Dan, Meta GORUP, Pavel BORECKY & Carla GUERRÓN MONTERO (eds). 2021. Why the World Needs Anthropologists. Oxon & New York: Routledge.
PODJED, Dan & Katarina POLAJNAR HORVAT. 'The Invisible Life of Food Waste: The Case of Ljubljana Households.' Traditiones 49 (1): 109-124.
PODJED, Dan. 2020. Antropologija med štirimi stenami: Spoznavanje družbe in sebe med pandemijo. [Indoor Antropology: Getting to Know Society and Oneself During the Pandemic.] Ljubljana: ZRC Publishing House.
ZAVRATNIK, Veronika, Dan PODJED, Jure TRILAR, Nina HLEBEC, Andrej KOS & Emilija STOJMENOVA DUH. 'Sustainable and Community-centred Development of Smart Cities and Villages.' Sustainability 12 (10): 1-17.
PRETNAR, Ajda & Dan PODJED. 2020. 'Data Mining Workspace Sensors: A New Approach to Anthropology.' Prispevki za novejšo zgodovino 59 (1): 179-197,
PODJED, Dan. 2019. Videni: Zakaj se vse več opazujemo in razkazujemo. [Seen: Why We Like Watching Others and Being Watched in Return.] Ljubljana: ZRC Publishing House.
PODJED, Dan & Simona BEZJAK (eds). 2017. Research on the Road: Methodology and Practice of Studying Traffic, Driving Habits, and Sustainable Mobility. Ljubljana: ZRC Publishing House.
PODJED, Dan, Meta GORUP & Alenka BEZJAK MLAKAR. 2016. 'Applied Anthropology in Europe: Historical Obstacles, Current Situation, Future Challenges.' Anthropology in Action 23 (2): 53-63.
PODJED, Dan & Saša BABIČ. 2015. 'Crossroads of Anger: Tensions and Conflicts in Traffic.' Ethnologia Europaea 45 (2): 17-33.
Compulsory Courses
Elective Courses