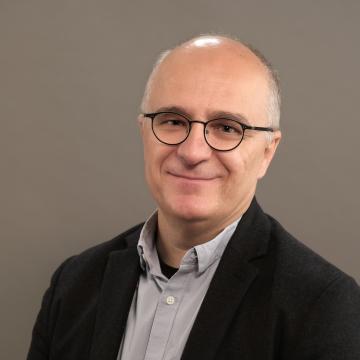 Office hours
Office hours: Tuesday 11:30-12:30 AM, Room 539 on the 5th Floor of the Faculty of Arts (Filozofska fakulteta).

Further informations:
https://matjazbarbo.wixsite.com/matjazbarbo

Cabinet
539
Department of Musicology
Prof. Matjaž Barbo
Matjaž Barbo (1965) is a full professor of musicology at the Institute of Musicology, Faculty of Philosophy, University of Ljubljana.
In 2004-2008 he was president of the Slovenian Musicological Society. For more than a decade he was editor-in-chief of the international musicological journal Muzikološki zbornik / Musicological Annual. He is also a member of the editorial board of several other scientific and professional journals and involved in various national and international scientific projects.
His research focuses on issues of music from the 18th century to the present, especially those that in one way or another concern the Slovenian cultural area. Most of his research is devoted to music-aesthetic issues, especially the definition of musical frames of reference, the analysis of their history of interpretation and reception, and the concept of musical work and improvisational principles. He has published several books, scientific articles, popular texts and translations in the field of musicology. Two of his books have been translated into English and German.
SELECTED WRITINGS
BOOKS
BARBO, Matjaž. Razumeti glasbo : igra zaznave in spoznanja. 1. izd. Ljubljana: Znanstvena založba Filozofske fakultete, 2021. 170 str., ilustr., note. Zbirka Razprave FF. ISBN 978-961-06-0523-2. ISSN 2335-3333. [COBISS.SI-ID 74774275]

BARBO, Matjaž. Slovenska muzikologija : kratek prelet po zgodovini, (Zbirka Historia facultatis). 1. izd. Ljubljana: Znanstvena založba Filozofske fakultete, 2019. ISBN 978-961-06-0152-4. [COBISS.SI-ID 298324736] 

BARBO, Matjaž. Slavko Osterc : klasik modernizma. Veržej: Kulturno društvo "Slavko Osterc", 2018. 114 str., ilustr. ISBN 978-961-288-578-6. [COBISS.SI-ID 295578624] 

BARBO, Matjaž. Die Bedeutung in der Musik und die Musik in der Bedeutung. Wien: Hollitzer, 2017. 147 str., ilustr., note. ISBN 978-3-99012-416-1. [COBISS.SI-ID 65836386] 

DUSÍK, František Josef (skladatelj), BARBO, Matjaž (urednik), GRABNAR, Klemen (urednik). Izbrana klavirska dela = Selected works for piano, (Monumenta artis musicæ Sloveniæ, 61). Ljubljana: Založba ZRC, ZRC SAZU, 2016. XXVII, 73 str., faks. [COBISS.SI-ID 286657280] 

BARBO, Matjaž. Pomen v glasbi in glasba v pomenu, (Zbirka Razprave FF). 1. izd. Ljubljana: Znanstvena založba Filozofske fakultete, 2015. 137 str., ilustr., note. ISBN 978-961-237-774-8. [COBISS.SI-ID 281466880]

BARBO, Matjaž. Simfonija v 19. stoletju : zadrege zvrsti, (Zbirka Razprave FF). 1. izd. Ljubljana: Znanstvena založba Filozofske fakultete, 2012. 308 str., ilustr., note. ISBN 978-961-237-518-8. [COBISS.SI-ID 262728192] 

BARBO, Matjaž. František Josef Benedikt Dusík : the biography of an eighteenth-century composer, (Specula spectacula, 2). Wien: Hollitzer Wissenschaftsverlag, 2011. VIII, 151 str., ilustr., note. ISBN 978-3-99012-002-6. ISBN 978-3-99012-003-3. [COBISS.SI-ID 45442146] 

BARBO, Matjaž. František Josef Benedikt Dusík, (Zbirka Razprave FF). Ljubljana: Znanstvena založba Filozofske fakultete, 2009. 138 str., ilustr., note. ISBN 978-961-237-319-1. [COBISS.SI-ID 247773952] 

DUSÍK, František Josef (skladatelj), BARBO, Matjaž (avtor, urednik, avtor dodatnega besedila). Simphonia grande in G, (Monumenta artis musicae Sloveniae, 52). Ljubljana: Slovenska akademija znanosti in umetnosti: Muzikološki inštitut Znanstvenoraziskovalnega centra Slovenske akademije znanosti in umetnosti, 2007. 1 partitura (XXIX, 69 str.), faks. [COBISS.SI-ID 236420096] 

BARBO, Matjaž. Izbrana poglavja iz estetike glasbe. V Ljubljani: Filozofska fakulteta, Oddelek za muzikologijo, 2007. 117 str. ISBN 961-237-186-5. ISBN 978-961-237-186-9. [COBISS.SI-ID 230798848]  (ponatis: 2008)

BARBO, Matjaž. Obča muzikologija. Ljubljana: Filozofska fakulteta, Oddelek za muzikologijo, 2004. 199 str. ISBN 961-237-089-3. [COBISS.SI-ID 214546432] 

BARBO, Matjaž. Pro musica viva : prispevek k slovenski moderni po II. svetovni vojni, (Razprave Filozofske fakultete). Ljubljana: Znanstveni inštitut Filozofske fakultete, 2001. 235 str., note. ISBN 86-7207-136-0. [COBISS.SI-ID 114664448] 

BARBO, Matjaž. Slovenska glasbena zavest, (Umetnost in kultura, št. 120). Ljubljana: Zveza kulturnih organizacij Slovenije: Znanstveni inštitut Filozofske fakultete, 1994. 79 str., [8] f. zganj. zvd. [COBISS.SI-ID 40679936]
ARTICLES
BARBO, Matjaž. Alfred Khom in njegovo delovanje v Ljubljani. De musica disserenda. [Tiskana izd.]. 2022, letn. 18, št. 1-2, str. 127-165, ilustr. ISSN 1854-3405. [COBISS.SI-ID 113704451]

BARBO, Matjaž. »Svet čudovite lahkosti zvenenja sodobne glasbe« : prizadevanja za sodobno glasbo v treh desetletjih po ustanovitvi društva Muzina. Muzikološki zbornik. [Tiskana izd.]. 2022, zv. 58, [št.] 2, str. 175-204, ilustr. ISSN 0580-373X. https://journals.uni-lj.si/MuzikoloskiZbornik/article/view/12410/11055, DOI: 10.4312/mz.58.2.175-204. [COBISS.SI-ID 142521347], [SNIP, Scopus]

BARBO, Matjaž. Contemporary musicology and the study of musical practices in Slovenia. Muzikološki zbornik. [Tiskana izd.]. 2020, vol. 56, no. 2, str. 35-50, ilustr. ISSN 0580-373X. https://revije.ff.uni-lj.si/MuzikoloskiZbornik/issue/view/718/541, DOI: 10.4312/mz.56.2.35-50. [COBISS.SI-ID 44819203], [SNIP]

BARBO, Matjaž. Josip Mantuani in začetki glasbenozgodovinskega študija na Slovenskem. V: SMOLEJ, Mojca (ur.). 1919 v slovenskem jeziku, literaturi in kulturi. 1. natis. Ljubljana: Znanstvena založba Filozofske fakultete, 2019. Str. 71-78. Zbirka Seminar slovenskega jezika, literature in kulture. ISBN 978-961-06-0212-5. ISSN 2386-0561. https://centerslo.si/wp-content/uploads/2019/06/55-SSJLK_Barbo.pdf, DOI: 10.4312/SSJLK.55.71-78. [COBISS.SI-ID 69808226]

BARBO, Matjaž. Josip Čerin in njegov študij muzikologije na Dunaju = Josip Čerin and his musicological studies in Vienna. Muzikološki zbornik, ISSN 0580-373X. [Tiskana izd.], 2017, zv. 53, [št.] 1, str. 103-119. [COBISS.SI-ID 64634210], [WoS do 16. 7. 2017: št. citatov (TC): 0, čistih citatov (CI): 0, Scopus do 17. 8. 2017: št. citatov (TC): 0, čistih citatov (CI): 0] 

BARBO, Matjaž. Glasbeni pomen kot generator glasbenega užitka. Časopis za kritiko znanosti, ISSN 0351-4285, 2016, letn. 44, št. 263, str. 35-43. [COBISS.SI-ID 287546368] 

BARBO, Matjaž. Reger v Sloveniji. De musica disserenda, ISSN 1854-3405. [Tiskana izd.], 2016, letn. 12, št. 2, str. 47-58. [COBISS.SI-ID 40949293], [Scopus do 24. 6. 2017: št. citatov (TC): 0, čistih citatov (CI): 0] 

BARBO, Matjaž. Der ˝Leise Ton˝ der Ästhetik der Kunstreligion. TheMA : Elektronski vir, ISSN 2305-9672, 2016, vol. 5, no. 1-2, str. 1-12, ilustr., note. http://www.thema-journal.eu/index.php/thema/article/view/51. [COBISS.SI-ID 63230562] 

BARBO, Matjaž. Klavirska dela Františka Josefa Benedikta Dusíka = Piano works of František Josef Benedikt Dusík. Muzikološki zbornik, ISSN 0580-373X. [Tiskana izd.], 2015, zv. 51, [št.] 1, str. 129-143, note. [COBISS.SI-ID 57816418], [SNIP] 

BARBO, Matjaž. "Tihi ton" estetike umetnostne religije. Primerjalna književnost, ISSN 0351-1189, avg. 2015, letn. 38, št. 2, str. 57-66, [236]. [COBISS.SI-ID 58099042], [SNIP] 

 BARBO, Matjaž. Resurrecturis - musical triptych in the form of a concert requiem, composed by P. Ramovš, J. Trošt, and S. Vremšak = Resurrecturis - glasbeni triptih v obliki koncertnega rekvijema skladateljev P. Ramovša, J. Trošta in S. Vremšaka. Muzikološki zbornik, ISSN 0580-373X. [Tiskana izd.], 2014, zv. 50, [št.] 2, str. 251-272, note, doi: 10.4312/mz.50.2.251-272. [COBISS.SI-ID 56517986]

 BARBO, Matjaž. Referential contexts of early Slovenian symphonic music = Referenčni konteksti zgodnje slovenske simfonične glasbe. Muzikološki zbornik, ISSN 0580-373X. [Tiskana izd.], 2013, zv. 49, [št.] 2, str. 33-39. [COBISS.SI-ID 53588578]

BARBO, Matjaž. Pomen Dragotina Cvetka za razvoj slovenskega glasbenega zgodovinopisja. V: CIGOJ KRSTULOVIĆ, Nataša (ur.). Dragotin Cvetko in glasbeno zgodovinopisje v 20. stoletju = Dragotin Cvetko and music historiography of the twentieth century, (De musica disserenda, ISSN 1854-3405, letn. 8, št. 1). Ljubljana: Založba ZRC, 2012, letn. 8, št. 1, str. 53-65. [COBISS.SI-ID 49717346] 

BARBO, Matjaž. Simfonična ustvarjalnost Rista Savina = Risto Savin?s orchestral works. Muzikološki zbornik, ISSN 0580-373X. [Tiskana izd.], 2012, zv. 48, [št.] 2, str. 187-194, ilustr. [COBISS.SI-ID 51274850]

BARBO, Matjaž. Iz komornega opusa Marijana Lipovška. V: KOTER, Darja (ur.). Marijan Lipovšek : (1910-1995) : tematska publikacija Glasbeno-pedagoškega zbornika Akademije za glasbo v Ljubljani, (Glasbeno-pedagoški zbornik Akademije za glasbo v Ljubljani, ISSN 1318-6876, zv. 15). Ljubljana: Akademija za glasbo, Katedra za zgodovino in literaturo, Oddelek za glasbeno pedagogiko, 2011, zv. 15, str. 99-116, note. [COBISS.SI-ID 47362658] 

 BARBO, Matjaž. "Moj življenjski načrt": Dragotin Cvetko in začetki študija muzikologije na Slovenskem = "My life's plan": Dragotin Cvetko and the beginnings of the study of musicology in Slovenia. Muzikološki zbornik, ISSN 0580-373X. [Tiskana izd.], 2010, zv. 46, št. 2, str. 5-18. [COBISS.SI-ID 44306018]

BARBO, Matjaž. Duh in črka glasbe. De musica disserenda, ISSN 1854-3405, 2009, letn. 5, št. 1, str. 43-49. [COBISS.SI-ID 39435362] 

BARBO, Matjaž. Pavel Šivic in Collegium musicum. V: KOTER, Darja (ur.). Pavel Šivic : (1908-1995) : tematska publikacija Glasbeno-pedagoškega zbornika Akademije za glasbo v Ljubljani, (Glasbeno-pedagoški zbornik Akademije za glasbo v Ljubljani, ISSN 1318-6876, zv. 11). Ljubljana: Akademija za glasbo, Katedra za zgodovino in literaturo, Oddelek za glasbeno pedagogiko, 2009, str. 37-52. [COBISS.SI-ID 41162082] 

BARBO, Matjaž. František Josef Benedikt Dusík and the beginnings of Slovene symphonic music. Acta musicologica.cz, ISSN 1214-5955, 2008, št. 1. http://acta.musicologica.cz/. [COBISS.SI-ID 37602402] 

BARBO, Matjaž. Zwischen Werkkonzeption und Improvisation : Der slowenische Komponist Primož Ramovš. Acta musicologica.cz, ISSN 1214-5955, 2007, št. 1, str. 1-6. http://acta.musicologica.cz. [COBISS.SI-ID 35023970] 

BARBO, Matjaž. "Vesela pesem žalostno serce ovedrí - mila pesem ohladí njegove rane" = "A merry song cheers up a sad heart - a tender sonng soothes its wounds". De musica disserenda, ISSN 1854-3405, 2007, letn. 3, št. 1, str. 55-63. [COBISS.SI-ID 34988898] 

BARBO, Matjaž. Glasba kot globalizacijski jezik? : metajezikovni kontekst Lebičeve glasbe = Music as a globalisation language? = metalinguistic context of Lebič's music. Muzikološki zbornik, ISSN 0580-373X. [Tiskana izd.], 2007, let. 43, št. 1, str. 187-192. [COBISS.SI-ID 36248674]

BARBO, Matjaž. Večsmernost začetkov slovenske operne ustvarjalnosti = The multiple directions of the beginnings of Slovene opera creativity. Muzikološki zbornik, ISSN 0580-373X. [Tiskana izd.], 2007, let. 43, št. 2, str. 59-66. [COBISS.SI-ID 36259170]

BARBO, Matjaž. Korenine slovenskega samospeva = The roots of the Slovene song. Muzikološki zbornik, ISSN 0580-373X. [Tiskana izd.], 2006, let. 42, št. 2, str. 15-24. [COBISS.SI-ID 34983778] 

BARBO, Matjaž. Pripevek k orisu življenja in dela F. J. B. Dusíka. Glasbeno-pedagoški zbornik Akademije za glasbo v Ljubljani, ISSN 1318-6876, 2005, zv. 5, str. 53-68. [COBISS.SI-ID 29920354] 

BARBO, Matjaž. Improvisation as a hermeneutic interpretation. Chronika aisthetikes, ISSN 1105-0462, 2001-2002, [Št.] 41B, str. 539-547. [COBISS.SI-ID 21243746] 

BARBO, Matjaž. Pojmovanje glasbenega časa v judovsko-krščanski tradiciji = The Comprehension of Musical Time in Jewish-Christian Tradition. Muzikološki zbornik, ISSN 0580-373X. [Tiskana izd.], 2002, zv. 38, str. 97-103. [COBISS.SI-ID 21080674] 

BARBO, Matjaž. Osnutek statuta skupine Pro musica viva kot poskus začrtanja njenih estetskih koordinat. Muzikološki zbornik, ISSN 0580-373X. [Tiskana izd.], 1996, 32, str. 95-106. [COBISS.SI-ID 73785344] 

BARBO, Matjaž. "Slovenski duh" kot poetska kategorija. Muzikološki zbornik, ISSN 0580-373X. [Tiskana izd.], 1993, 29, str. 33-38. [COBISS.SI-ID 56128256] 

BARBO, Matjaž. Glasba kot trpno-tvorni del slovenske družbe. Muzikološki zbornik, ISSN 0580-373X. [Tiskana izd.], 1991, zv. 27, str. 77-85. [COBISS.SI-ID 7672930] 

BARBO, Matjaž. The composers group Pro musica viva : a paradigm for the modernism of the sixties in Slovenian music. World new music magazine, ISSN 1019-7117, 2003, 13, str. 51-56. [COBISS.SI-ID 23235426] 
ARTICLES IN THE BOOKS
BARBO, Matjaž. Alfred Khom, a diligent choirmaster, skilful composer and experienced musician, torn between choral and philharmonic endeavours. V: WEISS, Jernej (ur.). Glasbena društva v dolgem 19. stoletju: med ljubiteljsko in profesionalno kulturo = Music societies in the long 19th century: between amateur and professional culture. Koper: Založba Univerze na Primorskem; Ljubljana: Festival, 2023. Str. 409-429. Studia musicologica Labacensia, 6. ISBN 978-961-293-219-0. ISSN 2712-2867. https://www.hippocampus.si/ISBN/978-961-293-217-6/978-961-293-217-6.409-429.pdf,DOI: 10.26493/978-961-293-217-6.409-429. [COBISS.SI-ID 141568515]

BARBO, Matjaž. Slovenska večglasna ansambelska in zborovska pesem 19. stoletja. V: et al. Zgodovina glasbe na Slovenskem. 3, Glasba na Slovenskem med letoma 1800 in 1918. [1. izd. Ljubljana: Znanstvena založba Filozofske fakultete: Založba ZRC, 2021. Str. 319-365, ilustr. ISBN 978-961-06-0529-4. [COBISS.SI-ID 85307907]

BARBO, Matjaž. Glasba v liturgiji in duhovnosti svetega Frančiška in svete Klare. V: LAVRIČ, Ana (ur.), HANČIČ, Damjan (ur.). Odsev Luči : 40 : štiridesetletnica oživitve Klarine karizme v Sloveniji. Nazarje: Samostan Brezmadežne sester klaris, 2019. Str. 191-204, ilustr. ISBN 978-961-94470-1-7. [COBISS.SI-ID 71757666]

BARBO, Matjaž. Josip Mantuani in začetki glasbenozgodovinskega študija na Slovenskem. V: SMOLEJ, Mojca (ur.). 1919 v slovenskem jeziku, literaturi in kulturi, (Zbirka Seminar slovenskega jezika, literature in kulture, ISSN 2386-0561). 1. natis. Ljubljana: Znanstvena založba Filozofske fakultete. 2019, str. 71-78. https://centerslo.si/wp-content/uploads/2019/06/55-SSJLK_Barbo.pdf, doi: 10.4312/SSJLK.55.71-78. [COBISS.SI-ID 69808226] 

BARBO, Matjaž. Operna "vožnja domov" Emila Hochreiterja. V: WEISS, Jernej (ur.). Vloga nacionalnih opernih gledališč v 20. in 21. stoletju = The role of national opera houses in the 20th and 21st centuries, (Studia musicologica Labacensia, ISSN 2536-2445, 3). Koper: Založba Univerze na Primorskem; Ljubljana: Festival. 2019, str. 313-331, 414, 434, ilustr., note. [COBISS.SI-ID 69645410] 

BARBO, Matjaž. Rezeption als Kategorie der Musik und der Musikgeschichtsschreibung. V: BRÜGGE, Joachim (ur.). Sowohl Mozart als auch --- : Salzburger Jubiläumstagung zur Rezeptions- und Interpretationsforschung (2016), (Rombach Wissenschaften, Bd. 18). Freiburg im Breisgau; Berlin; Wien: Rombach. 2017, str. [237]-244. [COBISS.SI-ID 66165858] 

BARBO, Matjaž. Anton Dolinar kot doktorski študent Guida Adlerja. V: WEISS, Jernej (ur.). Nova glasba v "novi" Evropi med obema svetovnima vojnama = New music in the "new" Europe between the two world wars, (Studia musicologica Labacensia, ISSN 2536-2445, 2). Koper: Založba Univerze na Primorskem; Ljubljana: Festival. 2018, str. 135-157, ilustr. [COBISS.SI-ID 66496866] 

BARBO, Matjaž. Reger in Slowenien. V: LOOS, Helmut (ur.), KOCH, Klaus-Peter (ur.), POPP, Susanne (ur.). Max Reger - ein nationaler oder ein universaler Komponist? : Mitteilungen der internationalen Arbeitsgemeinschaft an der Univerzität Leipzig, (Musikgeschichte in Mittel- und Osteuropa, Heft 18). Leipzig: Gudrun Schröder Verlag. 2017, str. 118-129. [COBISS.SI-ID 66494306] 

BARBO, Matjaž. Glasbeno življenje v Ljubljani v času ustanovitve Academiae philharmonicorum. V: VINKLER, Jonatan (ur.), WEISS, Jernej (ur.). Musica et artes : ob osemdesetletnici Primoža Kureta. Koper: Založba Univerze na Primorskem; Ljubljana: Akademija za glasbo: Festival: Slovenska filharmonija, 2015, str. 33-44. [COBISS.SI-ID 57280866] 

BARBO, Matjaž. Vpliv čeških glasbenikov na vznik slovenske simfonične tradicije. V: JENSTERLE-DOLEŽAL, Alenka (ur.), HONZAK-JAHIĆ, Jasna (ur.), ŠURLA, Andrej (ur.). Sto let slovenistiky na Univerzitě Karlově v Praze : pedagogové a vědci ve stínu dějin, (Varia, sv. 27). Vyd. 1. Praha: Filozofická fakulta Univerzity Karlovy, 2014, str. 273-284. [COBISS.SI-ID 57147746] 

BARBO, Matjaž. "Cantual" brežiškega frančiščanskega samostana. V: ŠKOFLJANEC, Jože (ur.), AMBROŽIČ, Matjaž. S patri smo si bili dobri : tri stoletja brežiških frančiškanov : [zbornik znanstvenih razprav], (Zbirka Brežiške študije, 4). Krško: Zavod Neviodunum; Ljubljana: Brat Frančišek, 2013, str. 257-273, ilustr. [COBISS.SI-ID 1601653] 

BARBO, Matjaž. Systems of values in diverse aesthetic realities. V: BARBO, Matjaž (ur.), HOCHRADNER, Thomas (ur.). Music and its referential systems, (Specula spectacula, 3). Wien: Hollitzer Wissenschaftsverlag, 2012, str. 21-31, note. [COBISS.SI-ID 48308066] 

BARBO, Matjaž. Današnja glasba v trku med starim in novim : poglabljanje poglobitve sodobnih konroverz. V: DAVIDOVIĆ, Dalibor (ur.), BEZIĆ, Nada (ur.). Nova nepoznata glazba : svečani zbornik za Nikšu Gliga = New unknown music : essays in honour of Nikša Gligo, (Biblioteka Posebna izdanja, Knjiga 5). Zagreb: DAF, 2012, str. [152]-163, note. [COBISS.SI-ID 51879010] 

BARBO, Matjaž. Music as a metaphor?. V: STEFANIJA, Leon (ur.), SCHÜLER, Nico (ur.). Approaches to music research : between practice and epistemology, (Methodology of music research, ISSN 1618-842X, Vol. 6). Frankfurt am Main [etc.]: Peter Lang, 2011, str. 63-69. [COBISS.SI-ID 46156898] 

BARBO, Matjaž. Novo mesto und seine Musikidentität : zwischen Zentrum und Peripherie. V: LOOS, Helmut (ur.). Musik-Stadt : Traditionen und Perspektiven urbaner Musikkulturen. Band 1, Traditionen städtischer Musikgeschichte in Mittel- und Osteuropa. Leipzig: Gudrun Schröder, cop. 2011, str. 395-401. [COBISS.SI-ID 45815394] 

BARBO, Matjaž. Modernismus in der Slowenischen Musik. V: BRAUN, Joachim (ur.), et al. Musikgeschichte in Mittel- und Osteuropa : Mitteilungen der internationalen Arbeitsgemeinschaft an der Universität Leipzig : Heft 12. Leipzig: Gudrun Schröder, 2008, str. 268-279. [COBISS.SI-ID 38057314] 

BARBO, Matjaž. Orgelske improvizacije Primoža Ramovša med liturgično procesualnostjo in konceptom dela. V: SNOJ, Jurij (ur.), FRELIH, Darja (ur.). Zbornik ob jubileju Jožeta Sivca = Essays presented to Jože Sivec. Ljubljana: Založba ZRC, ZRC SAZU, 2000, str. 257-266. [COBISS.SI-ID 13937965] 
Compulsory Courses
Elective Courses