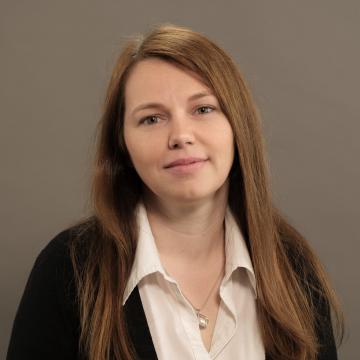 Office hours
ponedeljek,torek,četrtek in petek od 11h do 13h; sreda od 11h do 15h
Založništvo
123/124/125, II nad.str. Univerza v Lj.
The Centre for Slovene as a Second and Foreign Language
mag. Mateja Lutar
Mateja Lutar je študirala slovenistiko na Filozofski fakulteti Univerze v Ljubljani, kjer je leta 2005 (Jezik oblikuje misli, Pragmatična analiza reklamnih besedil) in leta 2015 magistrirala (Pragmalingvistična analiza oglasov). Zaposlila se je na Filozofski fakulteti, najprej v Znanstveni založbi FF (2008), nato pa je prevzela program založništva na Centru za slovenščino kot drugi in tuji jezik (2009). Je urednica učnih gradiv, ki jih izdaja Center, ter tehnična urednica publikacij Seminarja slovenskega jezika, literature in kulture in Simpozija Obdobja ter drugih priložnostnih ali projektnih gradiv. Zanimajo jo slovenščina kot drugi in tuji jezik, pragmatika, psiholingvistika in sociolingvistika.